Teeth Whitening Treatment Specialist Serving Mesquite, Greater Dallas TX
Dental professionals recommend clinical teeth whitening to protect the integrity of your teeth while also providing the most noticeable results. At Love 2 Smile Dental, Dr. Divya Nagaraj DDS and our experienced and knowledgeable team provides professional teeth whitening to give you the immaculate smile you've been dreaming of.

Connect with us today

for more information about our teeth whitening services or

book online to schedule an appointment

at your earliest convenience. We are located at

1050 N Bryan-Belt Line Rd Ste 102, Mesquite, TX 75149

.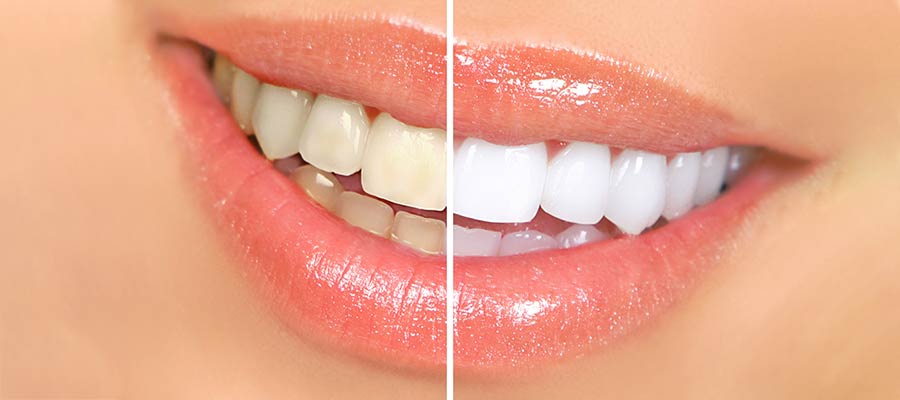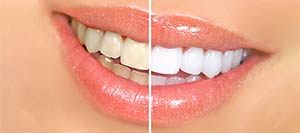 Table of Contents:
How does teeth whitening work?
How can I keep my teeth white after treatment?
What are my whitening options?
Is it worth it to get your teeth professionally whitened?
Stained or yellowing teeth is a very common problem that people speak to their dentists about, and teeth whitening is often the answer that is provided. Safe and effective, teeth whitening refers to any process that brightens and whitens natural teeth so they're more aesthetically pleasing. This may include sanding down stains, using at-home or in-clinic bleaching kits, and/or using UV light therapy.
How does teeth whitening work?

Teeth whitening products and/or procedures work by removing extrinsic and intrinsic stains from your teeth so that they appear lighter and whiter in color. 

The most common type of teeth whitening used in both over-the-counter products and in-office treatment uses hydrogen peroxide to effectively minimize stains that are present on the teeth. Other products, such as carbamide peroxide, may also be used to aid in the whitening process.

The tooth whitening that you'll find at the dentist's office will use higher concentrations of these active ingredients, giving you visible results more quickly than over-the-counter alternatives.
How can I keep my teeth white after treatment?

Keeping your teeth white after the completion of your treatment will hinge on your ability to follow the aftercare instructions laid out by Dr. Divya Nagaraj DDS. You can help maintain the results of your treatment by maintaining proper oral hygiene such as brushing, flossing, and rinsing daily.

You should also make sure that you avoid acidic and tannin-rich foods coming into contact with the surface of your teeth as much as possible. This includes:

• Black teas and coffee
• White and red wine
• Sports drinks
• Carbonated beverages
• Berries and other brightly colored foods (such as beets)
• Sauces (soy, tomato, curries)

If you do consume these products regularly, you should ensure that you're cleaning your teeth regularly to ensure you're removing the remnants as quickly as possible and not letting them linger.
What are my whitening options?

When it comes to teeth whitening, there are many clinical and over-the-counter options on the market. This includes:

• In-Office Tooth Whitening. This procedure is completed by your dentist using bleaching solutions and/or lasers that work at a much higher intensity than over-the-counter products. This allows for a deeper whitening that occurs more quickly. 

• Tooth whitening strips and gels. These products are applied directly to the teeth using either a brush or a strip. These products are typically peroxide-based and need to be utilized 2-3 times a day for approximately 2 weeks.

• Tray-based tooth bleaching systems. With this option, a tray is filled with a peroxide-based bleaching gel is placed over the teeth. This is typically done for 30-60 minutes a day for up to four weeks. These systems can be purchased over the counter or at your dentist's office if you'd like a more custom fit for your tray.

• Tooth whitening toothpastes. Whitening toothpastes contain chemical agents that help remove stains from teeth. These products are relatively inexpensive and brighten teeth minimally but can provide a subtle whitening. 
Is it worth it to get your teeth professionally whitened?

If your teeth are stained, have discoloration, and are negatively affecting the way you feel about yourself, then professional teeth whitening can help you achieve the aesthetic you're looking for. This type of cosmetic dentistry service can help you to brighten your smile, boost your confidence, and provide you with the smile of your dreams.

Professional teeth whitening can last up to 10 years depending on how well you take care of your teeth after your procedure. However, touch-ups are safe and always available should you notice new stains or yellowing starting to form. At Love 2 Smile Dental, we offer professional teeth whitening so that you can achieve your ultimate smile goals. Contact us today for any questions that you may have about our dental services or book with us online to schedule an appointment. We are located at 1050 N Bryan-Belt Line Rd Ste 102, Mesquite, TX 75149. We serve patients from Mesquite TX, Sunnyvale TX, Forney TX, Balch Springs TX, Garland TX, Rowlett TX, and surrounding areas.