Dental Crown Specialist Serving Mesquite, Greater Dallas TX
If you require a crown, the dental specialists at Love 2 Smile Dental can help. Dr. Divya Nagaraj DDS and her team is knowledgeable, experienced, and professional, giving you the top care you deserve and putting your comfort at the forefront.

Contact us

today for more information about our crown services or book with us online to

schedule an appointment

at your earliest convenience. We are located at 1050 N Bryan-Belt Line Rd Ste 102, Mesquite, TX 75149.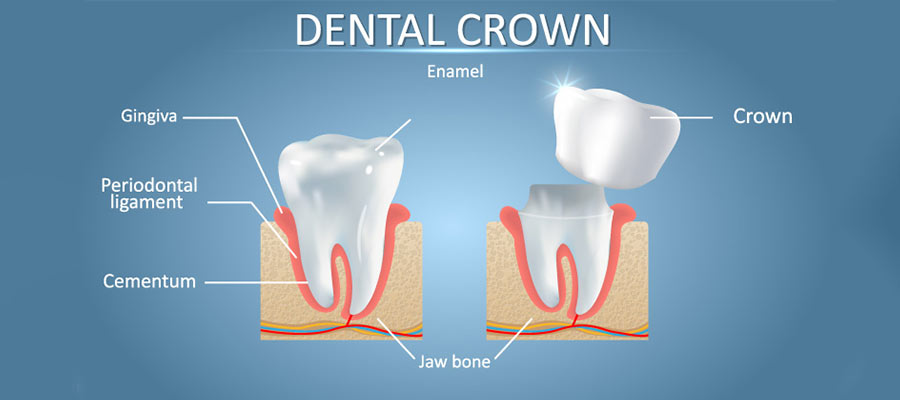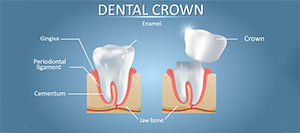 Table of Contents:
What are dental crowns?
Why is a dental crown needed?
What types of crowns are available?
What steps are involved in preparing a tooth for a crown?
If you have a tooth that is decayed, broken, worn down, or has recently received a root canal, your dentist may recommend having a dental crown placed. This small, custom-made fixture is a tooth-shaped cap that restores the look and feel of a compromised tooth and will last for upwards of 15+ years when properly taken care of.
What are dental crowns?

A dental crown is a tooth-shaped fixture that is adhered to a weak, broken, or decayed tooth to restore its look and function. Crowns are custom-made to ensure a proper fit and can be made of a variety of materials to ensure longevity and comfort.
Why is a dental crown needed?

There are several reasons why Dr. Divya Nagaraj DDS may recommend a dental crown. This includes to:

• Cover a dental implant.
• Cover a misshapen tooth.
• Cover a severely discolored tooth.
• Hold a dental bridge in place.
• Hold together parts of a cracked tooth.
• Make a cosmetic modification.
• Protect a weak tooth from breaking.
• Restore a previously broken- or worn-down tooth.
• Support a tooth with a large filling, especially if there is not a lot of teeth left as a result.
What types of crowns are available?

Dental crowns can be made from an array of different materials and are custom-built to fit your unique needs. The types of crowns available include:

• Metal. These durable crowns may include any combination of palladium, gold, nickel, and chromium. They rarely chip or break and tend to have the longest longevity out of all the types of dental crowns available. 

• Porcelain/Metal Fusion. Combining metal and porcelain components, these crowns are extremely durable and can be color matched to your natural teeth.

• Resin. These types of crowns are the most affordable, however, they don't typically last as long as their metal counterparts and are more prone to fractures and breaks.

• All-ceramic or all-porcelain. These crowns are best for the front teeth as they can be made to fit the exact color of your natural teeth. They're also a preferable option for those that have allergies to certain types of metals.

• Pressed ceramic. These dental crowns are capped with porcelain, making them extremely durable and also allowing for color matching.

Your dentist will consult with you about the type of crown you require and will always take your unique needs and financial budget into consideration.
What steps are involved in preparing a tooth for a crown?

To prepare your tooth for a dental crown, Dr. Divya Nagaraj DDS will need to remove some of the enamel on the affected tooth. This allows the crown to fit nicely over the tooth and ensures that your new crown will stay in place once it has been bonded to the tooth. A filling material may be used to help strengthen the tooth and make it more stable before the crown is placed.

Following this, Dr. Divya Nagaraj DDS will take either physical or digital impressions of your teeth. Once complete, these impressions will be sent to a dental lab where your custom dental crown will then be created. This typically takes between 2-3 weeks, so in the meantime your dentist will fit you with a temporary crown while you're waiting for the permanent one to come in.

Once the dental lab finishes your permanent crown, they'll send it back to your dentist's office. From there, the temporary crown will be removed, and the new crown will be inserted and bonded to the tooth using strong dental cement. If you need to get a crown placed, look no further than Love 2 Smile Dental. Dr. Divya Nagaraj DDS offer safe, professional, and affordable care to ensure you get the specialized treatment that you need in a timely manner. Contact us today for more information about our crown services or, when ready, you can book in online to schedule an appointment. We are located at 1050 N Bryan-Belt Line Rd Ste 102, Mesquite, TX 75149. We serve patients from Mesquite TX, Sunnyvale TX, Forney TX, Balch Springs TX, Garland TX, Rowlett TX, and surrounding areas.